Recruitment Journey
For anyone who knows Shakir, they will know how much of a top guy he is. Beyond that, he's a hard worker and he's very good at what he does.
But how did he get to where he is today? His journey to becoming a Recruitment Consultant is something we can all learn from.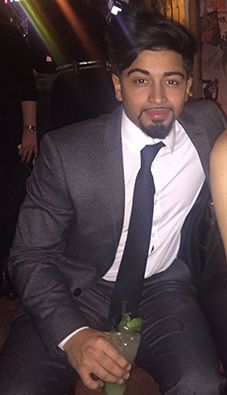 Shak began his SW6 journey in 2014 when he discovered the brand via LinkedIn. At this time he was in his second year of studying Psychology at the University of Roehampton. Keen to work and earn some money alongside his studies, Shak called SW6 in search of an internship. Unfortunately we couldn't help him at the time. This wasn't going to stop Shak! He frequently called in on the off chance that we'd have a job available for him. Time after time he was left empty handed. Eventually our director, Michelle, told Shak to give her a call in the New Year once she was back from her holiday.
In classic Shak fashion, he called in at 9am on the day Michelle returned from her trip to South Africa. This "cheeky chap" (in the words of Michelle) clearly wasn't going to take no for an answer. The determination didn't go unnoticed, and Shak was hired as a University Ambassador for SW6 Associates. As a representative for SW6, he helped promote the brand to soon-to-be graduates, whilst learning about the recruitment industry.
At the end of his second year of studies, we took Shak on part-time as an Office Administrator. Keen to get more involved with the company, this was the perfect role. During this time he learned about the back office of the company, as well as dealing with invoicing and database management. He also got the opportunity to listen in on candidate preps and interviews. When his third year of studies kicked in, Shak was working at SW6 three days a week, attending university 3 days a week and also working 24 hours a week as a Passenger Service Agent at Heathrow Airport. This was a man on a mission!
For the entirety of his third year Shak juggled these responsibilities. This was until we began a recruitment drive, looking to bring in Graduate Trainee Recruitment Consultants to our own team.
Who do we think stepped up to the plate? I don't think I need to answer that.
Shak had already demonstrated the determination and hard work necessary to be a successful recruitment consultant. It was no surprise that he was offered one of the positions. He started in this new role the day after his final lecture. Shak didn't want one final summer, he wanted to start his career and earn some money. A man after our own hearts!
Working under Michelle, Shak began his new role resourcing candidates for clients based in London. His success was immediate, consistently placing candidates in exciting roles and frequently hitting targets along the way. It was no surprise that he earned his promotion to Recruitment Consultant within 4 months. His success hasn't stopped there either. He is already past the halfway mark of his next target, which will secure a further promotion. The fact that he is only 6 weeks into this 6 month target is astonishing. Shak's only just getting started.
UPDATE 26/01/2017: Shak has now hit his target, meaning that he is now a Senior Recruitment Consultant! This is an incredible achievement; one that is fully deserved. What a way to kick off 2017!
Shak's Successes
Broke the record for biggest first month as a 360 Recruitment Consultant, billing £32,800 in September 2016.
Promoted to Recruitment Consultant within 4 months.
Voted MVP of the month in August 2016.
Consistently hitting targets – earning places on lunch clubs and securing entry into monthly raffles (winning it once)
More than halfway through a 6 month target to earn his next promotion after only 6 weeks. UPDATE: Shak has hit his target, securing a promotion to Senior Recruitment Consultant!
Promoted to Senior Recruitment Consultant within 9 months.
3 Learning Points from Shak's Journey
Be determined. Don't be afraid to chase something that you want. Giving up shouldn't be an option. If you don't ask, you don't get. Simple.
Take your opportunities. If you are presented with an opportunity to further your career, take it. The harder you work, the more opportunities you will get.
Don't accept limitations. Work with the mentality that you can always outdo yourself. Set yourself challenges, hit your targets and earn those promotions. You'll surprise yourself at how much you can achieve with the right frame of mind.
Good things come to those who work hard. If you believe you have what it takes to achieve a successful career in recruitment then give us a ring on 0207 993 3353 or pop us an email at careers@sw6associates.com to find out more about our entry level opportunities in Recruitment across the UK.