Changing Industries
Sometimes you just need to get out and change it up, which is exactly what our Head of Regional Recruitment decided to do when she left the Graduate Scheme she went into after leaving University to go travelling and change career path. Here's Lauren's story.
I joined a graduate programme at one of the largest banks in Ireland straight after graduating. I initially spent my first 18 months in a strategy/marketing role before moving into retail banking.
About 12 months after I started in banking, the economy went into recession, making what had once been a really lucrative career option for graduates a lot more unstable and less attractive. Salary increases stopped, Christmas parties were cancelled and promotions were rare.
Two years into my banking career I was lucky enough to receive a promotion to Business Advisor (working with small businesses to provide lending and financial products). Luckily, this promotion came with a salary increase (which was very rare at this time) and at the age of 26 I was earning decent money.
However, I wasn't really enjoying the role. Banking is a very corporate environment and I was starting to have doubts whether it suited me or not. I also started to crave a role where the amount of work I did was reflected in my pay. Whilst I was on a good salary I knew that whether I left the office at 5, 6 or 7 it wouldn't make a difference to my pay at the end of the month.
Against the advice of pretty much everyone in my life, I handed in my notice. Everyone told me I was mad to quit a paid job with a pension in the middle of a recession, which looking back I probably was! As I didn't have a clue what I wanted to do, I decided to go backpacking for 10 months as it had always been part of my plan and it seemed like a good time to do it.
When I came back from travelling I didn't have a clue what I wanted to do. I knew two things, I wanted to make a lot of money and I wanted to progress to management as quickly as possible. I looked up the 'Top 100 Companies To Work For' and a lot of them were recruitment companies. I'd always thought recruitment was an HR role, but when I did a bit more research on it realised that it was a sales role and pretty perfect for me.
I interviewed with a number of recruitment companies and faced a lot of concerns, 'Why would I leave a stable job in finance?', 'How could I cope with the drop in salary?', 'Why would I want to start over from scratch in a new industry?' and 'How would I feel about people who were 5 years younger than me being more senior than me?'
All good questions/concerns but I was determined this was the career for me. I joined SW6 in January 2013 and haven't looked back since! My first year was tough, really tough. I thought having worked in a bank in the middle of a recession had made me pretty tough but I soon had to learn to toughen up pretty quickly that year!
My first year was very up and down - one good month, one bad month - I struggled to get that consistency. The biggest challenge for me was that I had another career choice I could go into - in the months that were hard, it did cross my mind to go back into banking, take a higher basic salary and have an easier life! However, as I already felt I was 'starting again' in terms of my career it wasn't really an option for me to quit. In my first year family and friends kept asking me had I done the right thing, was I sure there was money to be made etc so I felt I had something to prove.
Everyone in recruitment has that turnaround moment where they realise they can do it and for me it was at the very end of my first year - I'd started to have some big billing months and starting to make some money.
In September 2014, less than 2 years after joining the company I was promoted to manager and set up my own team, concentrating solely on regional recruitment.
Having worked in a different industry definitely helped me to progress quicker for the following reasons :
* As I was 'starting again' in a trainee role I was motivated to get to a senior position more quickly than I would have if I was just out of University
* Having worked in such a corporate environment I really appreciated the new environment. Even small things, such as early finishes on a Friday or being able to sit on the same desk as a Director seemed like a big deal to me
* I took a large drop in salary- this meant that I was aiming to get back to where I was as soon as possible. I had to earn commission, there was no choice for me not to
* A lot of people told me I was doing the wrong thing - this made me more determined to prove them wrong
* 5 years in a commercial environment give me the confidence to step into management quickly
* I appreciated the incentives even more -since joining 3 years ago I've been to Marbella, Ibiza and Mykonos with work, received shopping vouchers and plenty of nights out! If I'd joined recruitment straight out of uni, I would have thought this was the norm!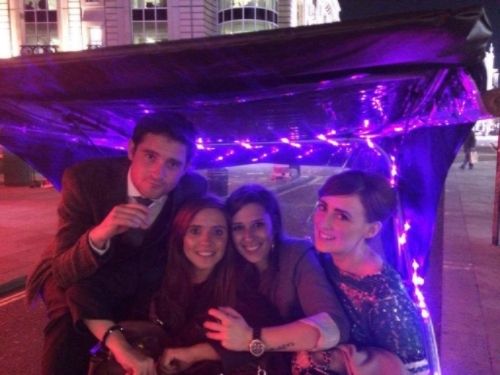 My advice to anyone who is looking to move industry and get started in recruitment is join the right company. I was lucky enough that SW6 supported me through the tough times and allowed me to progress within the company quickly so that 3 years after 'starting again' I'm exactly where I want to be in my career and delighted I made the choice to move into recruitment!